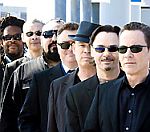 UB40
are to give away ten tracks off their new album, '24/7', as part of a promotion with a Sunday newspaper.
The album, which will be released in full this June, features vocals from former frontman Ali Campbell, who left the group earlier this year.
Campbell, who left to pursue his solo ambitions, has been replaced in the band by his brother, Duncan.
Duncan described relations between the two as "strained", but added that Campbell supported the decision to promote him to lead singer.
Meanwhile, reggae singer Maxi Priest will also join the band for live shows this summer.
The ten songs from '24/7' will come with every copy of this weekends Mail on Sunday newspaper.
Last year, Prince also gave away his latest album 'Planet Earth' with the newspaper.
The free tracks are as follows:
Rainbow Nation

End of War

Lost and War

Here We Go Again

Oh America

I'll Be There

Instant Radical Change of Perception

Once Around

This Is How It is

The Road

(by Jason Gregory)







See also:

UB40, N-Dubz To Play Spring Happening Event In Walsall

(03.03.2010)

UB40 Say Ali Campbell Feud Is Like Spinal Tap

(02.07.2008)

UB40 Lose Another Band Member

(20.03.2008)

UB40 Bring Ali Campbell Era To An End In Uganda

(26.02.2008)