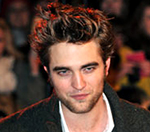 Robert Pattinson has hailed the "amazing" impact appearing on the soundtrack to a
Twilight
film can have on musicians.
The actor, who plays Edward Cullen in the four-part vampire saga, said the score had the power to break new acts.
"It's a lot of artists who're very low key and a lot of people don't know about, who are going to be brought out to a really wide audience," he told BBC Newsbeat
"That's amazing."
Pattinson contributed two songs to the soundtrack to the first Twilight film, but he is not included on the score to the sequel, New Moon.
Instead, producers have mixed more known acts, including Muse and Editors, with up and coming bands.
Lykke Li, whose song 'Possibility' appears in New Moon, said she wrote the track after watching the movie.
"I watched the second film without the music. They knew what scene they wanted me to write for and I finished it really quickly," she said.
Acts from the soundtrack, including Band of Skulls, joined Pattinson and his Twilight co-stars at a fan party in London last night.
Hundreds of fans strained to catch a glimpse of the cast ahead of New Moon's release on November 20.
(by Jason Gregory)