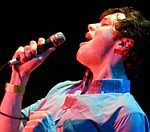 Friendly Fires
have said they want to "steer well clear" of changing their direction too much on their new album.
The group are currently working on the follow-up to their 2008 self-titled debut with producer Paul Epworth.
Singer Ed McFarlane said they were still using his garage to record the album, and that, unlike MGMT's recent album, they had no plans to abandon their original sound.
"I really hope we are not going to do what MGMT did," he told the Daily Record.
"Whatever it is they have done, we want to steer well clear of it.
"I don't understand why they would make such a leap, go from great pop songs to just any old acoustic music played in anyone's bedroom."
McFarlane said the group had finished four songs for the album and that they hoped to play at least one at this summer's festival.
(by Jason Gregory)