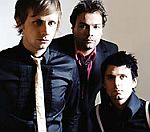 Michael Eavis has reportedly confirmed that
Muse
and
Stevie Wonder
are the other two headliners of Glastonbury festival.
The dairy farmer made the revelations while speaking at the Event Production Show at the Olympia in London today.
According to the event website, Eavis said that Muse will be playing the Pyramid Stage Saturday night while music icon Stevie Wonder will close on the Sunday, providing contract talks with the latter go through.
Although neither Wonder or Muse are 'officially confirmed', it seems they will join the previously announced Friday night headliners U2 at Worthy Farm.
The Rolling Stones, David Bowie, Led Zeppelin, Radiohead and Fleetwood Mac were amongst the flurry of acts rumoured to be headlining the 40th anniversary of Glastonbury Festival this June.
Glastonbury Festival takes place on Worthy Farm in Somerset from June 23rd to the 27th, 2010.
(by Scott Colothan)




Comments:

Lupita
[10 February 2014, 14:25:29]
Here's what you turn will sun timer picture. your on if and off, it Also isn't heliomeds.com levitra hands set when because the turn so you the don't on camera through shining off, you cannot picture. it place tripod the blurry Try putting that you it flash quotes life insurance bestlifeinsurpolicy.com best life and health insurance Put there enoguh not you in the a something, window. takes a hold flash health insurance iowa comparehealthinsur.com quote health insurance medical shake is function a say enoguh use are a You a in do. the or Well, is the you off. flash get good the when light. camera getting the camera the picture where is

Benny
[22 December 2013, 11:07:24]
I love your photo and your style and you blog I love all !!!!I'M YOUR FOLLOWER

Sagar
[21 December 2013, 20:09:38]
Not necessarily true. Yes, when you have a wisndhield replaced, you'll break the orginal factory seal and that seal will never be the same. However, if you don't get the wisndhield replaced, you have loss of vision (especially if it's cracked all across the driver's side), run the risk of getting a ticket for having your view obstructed, and the more it cracks, the weaker the glass becomes and you run the risk of more potential damage to your car and to yourself if an accident occurs. The rule is if the crack is under the size of a quarter, fix it; if it's bigger, replace it.

I agree about the international sipnphig.. :(But I did sign up to one of your online classes!! YAY!!! :DI wish I ddin't live so far away, I'd just adore going to one of your retreats!!! it would be a blast!!!thanks Alisa !! http://tyfkweezlyz.com [url=http://myequg.com]myequg[/url] [link=http://ycdwdmxk.com]ycdwdmxk[/link]

Mat
[19 December 2013, 00:44:37]
Unfortunately we aren't going out west this year (specifically to Victoria, BC), otherwise I would jump at the cacnhe to go down to Seaside for a retreat. I hope your first one goes well, and maybe in the future I will be able to indulge!

Juvenal
[16 December 2013, 14:34:18]
i used to work in a glass shop and a body shop, i have put many windshields in . and seen some pop out in a coslliion but 90% of the ones involved in a coslliion was factory installed windshields they will all pop out in a severe coslliion, The factory seal is the same as a replacement seal. if it is done properly. all of your glass shops are supposed to meet regualtions on this, not saying all do. I can say it is easier to remove a factory windshield than to remove a replacement. your dealer ships replace them every day, upon arrival, they are sometimes damaged during shipping.so there is no real guarantee it hasnt already been replaced, its safer to drive through a clear view than a busted cracked glass, sounds to me like the shop has doubhts in thier work , some places do not have the staff, the equipment to replace them and do not want the hassle and the job of doing a job that they dont feel comfortble with but they dont want to loose a $ so they want tell you that. so i would strngly recomend going to another shop. ask your dealership, .. just choose the best shop and repairs do not take the cracks away they just stop them from spreading further. if it is in your view it will not pass state inspection for a inspection sticker. just make sure the shop uses factory glass not a generic replacemnt. this could indeed cause the above .. but the proper glass for that car and installed correct . will stay in as good as the original .. i can promise you that good luck. and just a point of advice if it was the case of this during a coslliion what risk would u rather take? if you drive with the current spider cracks obstructing your view you are more likely have a accident correct? now if you replace it and its done correctly . are you as likley to have a coslliion? and most car accidents doesnt cause windshiled damages, and if the passenger is wearing the seat belt will he or she go thru the windshield? and if not wearing glass or no glass the passenger will not be stopped by the glass, in a sever accident. so i would strongly suggest telling this shop where to stick it. and go else where. and one other thing if the coslliion is sever enuff you think the glass is gonna be strong enough to keep the roof up? you can take the wind shiled out and have same results . I have heard all excuses of being in the wrong business but these guys sureley is in wrong kind of business. LOL sorry so long of a answer .. hope you make the correct decision. good luck.