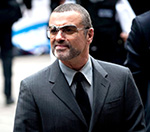 George Michael
has released a cover of
Stevie Wonder
's 'You And I' as a "gift" for Prince William and Kate Middleton.
The track is available to download now for free on georgemichael.com.
Michael recorded the song earlier this week after asking his Twitter followers to suggest a track for him to cover.
But he has since revealed that he had already chosen which track he wanted to cover.
The former Wham! star said Wonder had waived the rights so the song to be downloaded for free.
He also encouraged fans to make a contribution to Prince William and Kate Middleton's Charitable Gift Fund.
The Royal Wedding will take place on April 29 in London.
(by Jason Gregory)