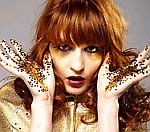 Glastonbury's Emily Eavis has drafted in
Florence & The Machine
,
La Roux
,
Status Quo
and artists Damien Hirst and Rolf Harris for the Oxfam eBay auction raising money for the Haiti disaster fund.
On Friday Damon Albarn, Coldplay, Arctic Monkeys, DJ Shadow and many more music stars donated items to the Glastonbury/Oxfam organised sale and over £35,000 has been bid in just two days.
In the fresh auction, Turner Prize winner Jeremy Deller, photographer Rankin, Brian Ferry, Dido and Shirley Bassey have all donated exclusive items.
Rolf Harris said of the sale: "The situation in Haiti is heartbreaking. Millions of people have had their lives devastated by the earthquake. I am grateful that I can help in this auction.
"Every single bid has the potential to help change thousands of lives, so log on...get on to eBay now!"
Head over to eBay right now to take part in the auction.
The new items on sale are as follows: