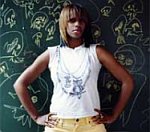 Santogold
has changed her name to
Santigold
, but is refusing to to reveal the reasons behind the decision.
The singer had previously been threatened with legal action by Baltimore artist Santo Rigatuso who says he has been using the moniker since 1983.
However, in a press release Santigold made no mention of this issue.
It reads: "Santogold is now Santigold. She's not telling you why, that's just how it is.
"No unpronounceable symbol, no numbers where they shouldn't be, no random capitalization, just plain ass Santigold so remember that."
(by Daniel Melia)