Santogold Plans First Headlining North American Tour
September 2, 2008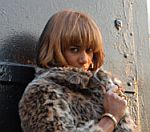 Santogold
has announced plans for her first headlining North American tour in support of her self-titled album released in April.
Dubbed 'The Goldrush Tour' and presented by MySpace Music, the dates kick off in New York on September 19 at the Fillmore and wrap up in Los Angeles on October 14 at The Wiltern.
The shows will feature Santogold backed by a full band and live DJ.
The tour dates are as follows:
New York, NY The Fillmore at Irving Plaza – September 19

Boston, MA, Paradise Rock Club – 20

Philadelphia, PA, Theatre of Living Arts – 23

Toronto, ON, Phoenix Concert Theatre – 24

Cleveland, OH, House Of Blues - 25

Detroit, MI, St. Andrews Hall – 27

Chicago, IL, House Of Blues – 28

Lawrence, KS, Liberty Hall – 30

Denver, CO, Gothic Theatre – October 1

Seattle, WA, Showbox – 4

Portland, OR, Crystal Ballroom – 5

San Francisco, CA, Fillmore – 7

San Diego, CA, House Of Blues – 10

Las Vegas, NV, House Of Blues – 11

Anaheim, CA, House Of Blues – 13

Los Angeles, CA, The Wiltern - 14

(by Victoria Tsigonis)







See also:

Santigold, Johnny Flynn, Yuck To Play Bestival Festival 2011

(18.04.2011)

Mark Ronson Drafts In Santigold, Scissor Sisters and Dave McCabe For Third Album

(02.02.2010)

Santigold Producing Her 'Band Idols' Devo

(07.01.2010)

Christina Aguilera Working With M.I.A., Santigold and Le Tigre

(17.08.2009)

The Horrors, Little Boots, Santigold Join Field Day Line Up

(07.04.2009)

Santigold, The Horrors, Patrick Wolf Join Underage Festival Line Up

(31.03.2009)

White Lies, Lily Allen, Santigold Join Open'er Festival Bill

(26.03.2009)

Santogold Changes Her Name, P Diddy Style

(12.02.2009)

Jay-Z Leaks New Song Featuring Santogold, Kanye West

(01.12.2008)

Santogold To Support Coldplay On Their Upcoming US Tour

(18.06.2008)

Santogold Records Song With The Strokes And Pharrell Williams

(15.05.2008)




Santigold. All news for this artist