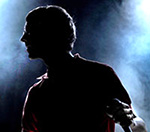 Richard Ashcroft
abandoned an Australian concert over the weekend claiming that his voice had failed him and he was unable to perform.
Ashcroft and his band, United Nations of Sound, were playing at the Splendour In The Grass festival, at the same time as Pixies and Empire Of The Sun.
According to spectators Ashcroft came out on stage and said "Welcome to our little patch", an apparent jibe at the small audience the band had attracted for the set.
Ashcroft then allegedly did not even make it through the first track before throwing down his equipment and 'storming off' through the crowd and into the festival site.
Festival organisers were quick to clear up the incident however, claiming: "Richard had an unfortunate incident and had to cancel the show."
Ashcroft's management have also moved to claim that the cancellation had nothing to do with the size of the crowd.
Jazz Summers, Ashcroft's manager, said, "After three gigs in two days, including a two-hour show in Sydney on Saturday night, we knew Richard would have to look after his voice for the Splendour in the Grass, set so we cancelled all promotional activity for Sunday. It wasn't until he got on stage on Sunday night at Splendour that he realized his voice wouldn't make it through the set.
(by David Renshaw)