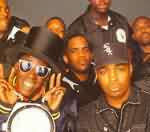 Public Enemy
's 'Fight The Power' has come top in a survey of the 100 greatest hip-hop songs of all time.
The 1989 song beat SugarHill Gang's 'Rapper's Delight' and Dr Dre's 'Nuthin But A G Thang', which came second and third respectively in the VH1 poll.
The rest of the top-five was completed by Run-DMC and Aerosmith's 'Walk This Way' and 'The Message' by Grandmaster Flash.
The only female artist to feature in the top-10 was Salt 'N Pepa, while Jay-Z and Eminem both managed to make the top-20.
Other prominent hip-hop names in the list included Notorious B.I.G., Snoop Dogg and Tupac.
The poll forms part of the TV channel's annual Hip-Hop Honours season, which will this year celebrate the careers of Cypress Hill and De La Soul.
(by Jason Gregory)