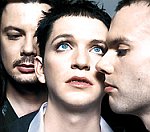 Placebo
have announced details of a short UK tour, which begins in Sheffield on May 9th.
The tour also includes shows in Bournemouth on May 10th and London on May 12th.
The three dates will precede the release of the band's new album 'Battle For The Sun', which is released on June 8th.
Placebo's UK tour dates are: