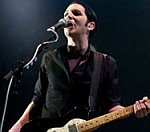 Placebo
stormed off stage at RockNess Festival in Scotland last night after a reveller allegedly threw a pair of scissors at them.
Angry singer Brian Molko left the stage after being pelted during their fourth song 'For What It's Worth', saying ""My safetly cannot be guaranteed so I'm leaving."
The crowd in the Clash Tent booed as all the band members filed off, before they returned five minutes later.
(by Scott Colothan)