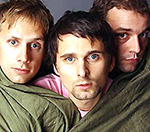 The guitar riff from
Muse
's 'Plug In Baby' has been named the best guitar riff of the 21st century.
The track, released in 2001, was one of two Muse songs included in top-10 of the poll by Total Guitar magazine.
The guitar hook to 'Slither' by Velvet Revolver came second, while Avenged Sevenfold's 'Afterlife' came third.
The top-5 was completed by Dream Theater's 'The Dark Eternal Night' and Muse's 'Knights Of Cydonia' at number four and five respectively.
Total Guitar editor Stephen Lawson said: "I think Muse won because Matt Bellamy is a guitar hero for the 21st century.
"He's genuinely innovative, a real creative type who comes up with unique guitar parts. I'm sure it helps that his riffs are catchy too."
The top-50 also included songs by Green Day, Kasabian, Elbow, Metallica and Biffy Clyro. You can see the full top-10 below.
Best Guitar Riff of the 21 Century - Top-10:
(by Jason Gregory)