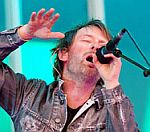 The full tracklist for the soundtrack to
The Twilight Saga: New Moon
has been revealed.
The score will feature songs by Muse, Radiohead's Thom Yorke and The Killers.
Editors, Ok Go and Death Cab for Cutie have also contributed tracks to the record, which is released in November.
New Moon is the second instalment of the vampire saga and sees Robert Pattinson and Kristen Stewart reprise their roles as Edward Cullen and Bella Swan.
You can see the full tracklist below:
Death Cab for Cutie

– 'Meet Me on the Equinox'

Band of Skulls

– 'Friends'

Thom Yorke

– 'Hearing Damage'

Lykke Li

– 'Possibility'

The Killers

– 'A White Demon Love Song'

Anya Marina

– 'Satellite Heart'

Muse

– 'I Belong to You (New Moon)'

Bon Iver & St. Vincent

– 'Roslyn'

Black Rebel Motorcycle Club

– 'Done All Wrong'

Hurricane Bells – 'Monsters'

Sea Wolf

– 'The Violet Hour'

OK Go

– 'Shooting the Moon'

Grizzly Bear

– 'Slow Life'

Editors

– 'No Sound but the Wind'

Alexandre Desplat – 'New Moon (The Meadow)'

(by Jason Gregory)







See also:

Muse's Matt Bellamy And Kate Hudson Engaged

(27.04.2011)

Eminem, Muse, Coldplay, Foo Fighters To Play Lollapalooza Festival 2011

(26.04.2011)

Muse's 'Uprising' Makes American Idol Appearance

(21.04.2011)

Kate Hudson Plays Down Marriage To Muse's Matt Bellamy

(20.04.2011)

Radiohead Release 'The Butcher' And 'Supercollider' As Free Download

(19.04.2011)

U2, Muse Form Supergroup At Secret Show - Video

(18.04.2011)

Radiohead Record Store Day Release Leaks Online

(14.04.2011)

Radiohead Won't Release 'The King Of Limbs' Part Two

(14.04.2011)

Coldplay, Muse and Blur 'Asked To Write London 2012 Olympics Anthem'

(08.04.2011)

Muse To Play 'Origin Of Symmetry' In Its Entirety At Reading And Leeds Festival 2011

(29.03.2011)

Radiohead To Release Two New Songs For Record Store Day

(29.03.2011)




Muse. All news for this artist

Radiohead. All news for this artist