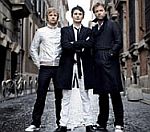 Rumours are circulating that
Muse
are due to return to their town where they played some of their earliest gigs to host two homecoming shows.
Reportedly due to take place on the 4th and 5th of September the shows in Teignmouth, Devon are most likely to be held at the 15,000 capacity 'The Den' park venue.
Although no official statement has been made by the band or by organisers, according southdevon.co.uk talks have taken place in secret. A councillor said that any premature talk of a gig could damage any possibility of it going ahead.
It has also been reported that SJM Ltd, the promoters of the would-be concerts, have applied for a licence allegedly for 'a music concert' on the Den which could host up to 15,000 spectators over two nights with priority tickets going to locals.
The concerts would be used to support the band's upcoming album 'The Resistance' that is due to be released on September 14.
(by Andrew Almond)