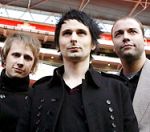 All three members of
Muse
have been given an honorary Doctorate of Arts Degree by the University of Plymouth.
Matt Bellamy, Chris Wolstenholme and Dom Howard, who are all from Devon, collected their honours last week.
"I'm pretty sure we're not worthy," frontman Matt Bellamy told the Herald newspaper.
"It's nice to be part of something down here in the West Country. We never went to university so it really means a lot to us."
The band, who dressed in traditional gowns, were joined by the University's other graduates at the ceremony.
As previously reported, Muse are currently recording the follow-up to 2006's 'Black Holes and Revelations'.
(by Jason Gregory)