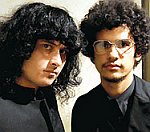 The Mars Volta
have been added to the line-up for this year's Sonisphere festival.
The event, which runs from July 8-10, will mark the band's only UK performance in 2011.
Sonisphere will be headlined by Biffy Clyro, Slipknot and the Big Four - Metallica, Slayer, Megadeth and Anthrax.
Other new additions to the bill include Opeth, Killing Joke, Four Year Strong and Black Tide.
Tickets are on sale now.
(by Jason Gregory)