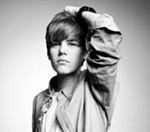 Two fans of
Justin Bieber
managed to sneak into his hotel room while he was staying in Liverpool dressed as cleaners, according to reports.
The unnamed pair, aged 16 and 18, were allowed into the teen star's suite at the Hard Day's Night hotel after saying they were housekeeping.
The Daily Record reports that the pair took photographs of Bieber's belongings, but were eventually discovered trying to get into his bed. Bieber was apparently left so spooked by the incident that he spent the night on his tour bus.
Bieber's stay at the upmarket hotel last week triggered a street to be closed after 500 fans gathered outside to try and catch a glimpse of the star. The incident was compared to 'Beatlemania'.
The singer is currently in the UK on tour.
(by Jason Gregory)