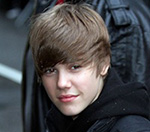 Justin Bieber
is receiving "vocal conditioning" to help stave of the effects of going through puberty.
Fans first noticed the 16-year-old's voice was dropping when he performed at the American Music Awards in November.
His record label Island Def Jam have now hired vocal coach Jan Smith, who also came to the aide of Bieber's mentor Usher when he experienced the same problem in the 1990s.
"She has me doing vocal exercises regularly," Bieber said.
In an interview with the Hollywood Reporter, the singer's record label's boss LA Reid admitted he was being more supportive of Bieber than he had been of Usher.
"I wasn't there for Usher," he said of the then 14-year-old singer. "I heard him at a showcase, and he couldn't sing. I was embarrassed.
"It was like: 'Damn, where's the voice? What happened to his tone? Where's the power and the range?' It was all gone."
Reid was eventually convinced to sign Usher by P Diddy.
(by Jason Gregory)