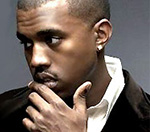 Kanye West
and
Justin Bieber
will "definitely" collaborate together,
Wu-Tang
Raekwon
has said.
The pair began discussing the collaboration on Twitter last week, with West suggesting that he and Raekwon remix the teen star's hit, 'Runaway Love'.
In an interview with XXL magazine, Raekwon said the prospect of the trio working together was exciting.
"It's definitely gonna happen," he said.
"When you got these kinda talents merging together to do something exciting, I think it's something that's gonna make the fans check it out.
"I'm big fans of both of these guys. I think, at the end of the day, shorty is a sensation."
West has been working with Raekwon on his forthcoming studio album, which is due to arrive in November.
(by Jason Gregory)