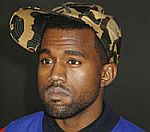 Kanye West
and
Wiz Khalifa
nearly clashed at last weekend's Coachella festival over former girlfriend Amber Rose, it's been reported.
Khalifa, the model's new boyfriend, is said to have confronted West, who headlined the final night of the festival, after he allegedly made reference to her during his performance of 'Stronger'.
In the original track, West raps the line: "I'd do anything for a blonde dike. And she'll do anything if the time's right."
But at Coachella he apparently changed the line to: "I did anything for that blonde dike. And she did anything when the time's right "
US gossip website Media Take Out reports that Khalifa approached West after his set to ask him about the lyric, but the rapper refused to discuss it.
A source said: "Kanye said something to Wiz and next thing you know security and people's entourages were everywhere pushing and shoving, it could have got real ugly."
(by Jason Gregory)