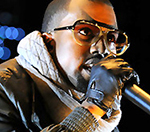 Kanye West
spent much of yesterday (Sunday Aug 15) declaring his love of
Justin Bieber
's music and trying to arrange a duet between himself and the sixteen year old pop star.
West, who now has 650,000 followers on the micro-blogging site, changed his setting so that the only person he 'follows' is now Bieber and claimed that he had listened to the youngsters single 'Runaway Love' ten times in a day.
"Listening to @Justin Bieber 'Run Away love. I love Sunday mornings in the crib. But I have listened to Runaway Love about 10 times so far. Ironically I got a song called Runaway on my new album too." Kanye Tweeted.
After Bieber responded, claiming to be 'Hyped' Kanye is a fan of his West suggested that he and fellow rapper Raekwon make a guest appearance on a remix of 'Runaway Love.
"I'm honored that you like my Music @JustinBieber!!! You gotta hear the album. Maybe we can do something together. Me, You and Raekwon. he said, before adding:
"Maybe me and Rae should hop on Runaway Love! FLEX would drop bombs!
(by David Renshaw)