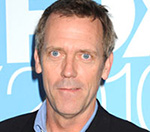 Hugh Laurie
, who stars in the US TV drama House, is set to launch a music career.
The 52-year-old actor has signed a contract with Warner to release a New Orleans blues album.
Produced by Joe Henry, Laurie's as-yet-untitled effort is set to feature an array of guest musicians.
The actor, who is more widely known in Britain for his former role in Blackadder, said he was "drunk with excitement at this opportunity".
"I know the history of actors making music is a chequered one, but I promise no one will get hurt," he added.
Henry, who is also a musician, has previously worked with the likes of Elvis Costello and Teddy Thompson.
(by Jason Gregory)