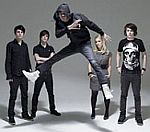 Hadouken!
will customise fans clothes at this weekends Camden Crawl, it's been announced.
The band, who are performing twice at the Festival on Friday (April 18th), have asked fans to congregate outside the old Fopp store on Camden High Street at 1.30pm.
Fans are asked to "make sure you bring clothes you're happy to have marked permanently or a spare if you're planning to wear your finest."
As previously reported, Hadouken! will play on the outdoor stage near Arlington House at 3pm. The band will then play at Bar Vinyl on Inverness Street at 5pm.
The Camden Crawl runs over two days in one of London's most notorious music districts.
(by Jason Gregory)