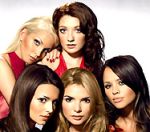 The man accused of writing a blog which described the rape and murder of
Girls Aloud
has appeared in court.
Civil Servant Darryn Walker, 35, is accused of writing Girls (Scream) Aloud and publishing it on a pornography website.
Walker, who appeared in Newcastle Crowd Court ths morning (October 22nd), is being prosecuted under the Obscene Publications Act.
He has been granted unconditional bail until the trial begins on March 16th.
As previously reported, the Internet Watch Foundation were originally alerted to the blog's existence and the case was then brought forward by Scotland Yard's Obscene Publications Unit.
The story allegedly details the kidnapping, mutilation, rape and murder of the group, who have become one of the UK's most successful girl bands.
(by Jason Gregory)