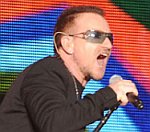 U2
frontman Bono has heaped praise on Girls Aloud and joked he would like to become the sixth member of the group.
The 48-year-old singer was speaking to The Sun at Earl's Court yesterday, when he made the joke saying he'd always wanted "to be in Girls Aloud".
Bassist Adam Clayton then asked: "Which one?"
Enthusing about the five-piece, who scooped Best Single at the Brit Awards for 'The Promise', Bono blathered: "Seriously, I think Girls Aloud are at the cutting edge of pop music. They are a great band and deserve to be centre stage.
"They have everything a pop band should have - songs, the look, it's all there."
Bono – real name Paul Hewson – continued that Girls Aloud are kindred spirits with U2: "We see ourselves as contemporaries of bands like Coldplay, Kings Of Leon, Interpol and even Girls Aloud.
"We have been doing this a long time but I still get the same nerves about releasing an album as I did in the early days.
"The difference now is for new bands. They are under so much pressure to release their material for free.
"It's different for us, we have a loyal fan base who buy our records. We can also make money from touring, thanks again to our fans, who go out and buy tickets."
(by Scott Colothan)