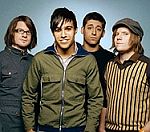 Fall Out Boy
have donated a revamped doughnut delivery truck to the American Red Cross.
The band purchased the disused truck from website CraigsList.com last September and painted it in graffiti to promote their fifth studio album 'Folie A Deux'.
At the time it was covered in the words 'Fresh Only Bakery', 'FOB The Return', 'I Don't Care' (their then current single) and 'Folie A Deux'.
Now, realising the truck has little promotional worth any more, the band have re-painted it again for the American Red Cross, so it can be used as a blood bank.
(by Scott Colothan)