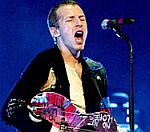 Coldplay
are planning on releasing their fifth studio album by Christmas 2010, Chris Martin has revealed.
The singer made the revelations in an interview with Brazilian TV show Fantastico where he admitted things were moving along faster than expected.
Asked when the follow-up to 'Viva La Vida' will see the light of day, Martin responded: "Hopefully this Christmas."
However, according to Coldplaying.com, Martin said there was little chance of the record leaking early.
"There are only two people in the whole building who know how to open all the recording files," he explained.
"Even we don't know how to do it. We couldn't even steal our own music. You would have to be a computer genius and a great burglar to get into the building, and download it, and mix it."
The singer also confirmed the band won't be jumping ship from the ailing EMI at any point soon.
"We signed for a lot (of albums), it won't be the last one. We're 'owned', we can't do anything without asking someone's permission," he joked.
(by Scott Colothan)