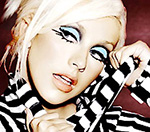 Christina Aguilera
has been arrested on suspicion of being drunk and unable to look after herself in a car in Los Angeles, police have confirmed.
The singer was taken into custody after a car she was travelling in as a passenger was pulled over at 2.45am (PST) this morning (March 1).
Her boyfriend, Matthew Rutler, was arrested on suspicion of driving under the influence of alcohol, according to the Press Association.
Sheriff's Deputy Bill McSweeney said Aguilera was initially booked on suspicion of a misdemeanour but is expected to be released without criminal charge.
The singer and actress released her last album 'Bionic' in 2010. Her most recent film, Burlesque, also came out last year.
(by Jason Gregory)