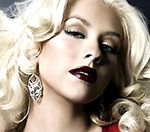 Christina Aguilera
fluffed a line of the American National Anthem as she performed at the Super Bowl on Sunday (February 6).
The singer made the mistake midway through singing the Star-Spangled banner during the pre-game ceremony at the Cowboys Stadium in Texas.
She was meant to have sung: "O'er the ramparts we watched, were so gallantly streaming?" but instead sang a variation of an earlier line.
More than 100million viewers are believed to have watched Aguilera's mistake.
She told CNN: "I got so lost in the moment of the song that I lost my place.
"I can only hope that everyone could feel my love for this country and the true spirit of it's anthem still came through."
Meanwhile, Black Eyed Peas performed during the event's half-time show and were joined by former Guns N' Roses guitarist Slash.
This year's Super Bowl final saw the Green Bay Packers beat the Pittsburgh Steelers by 31-25.
(by Jason Gregory)