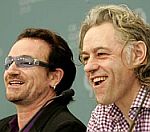 U2
frontman Bono and campaigner
Bob Geldof
have called the G8's commitment to help provide Africa with aid "a disgrace."
When it met at Gleneagles, Scotland in 2005, the G8 promised to double aid to Africa by 2010.
However, new figures, issued in a joint statement from Bono and Geldof yesterday (June 18th), said that the G8 has so far delivered just 14% of its pledge.
"It's a disgrace that the rich world, France included, has failed so utterly and miserably," Geldof told reporters.
A report from the advocacy group DATA showed that France was one of the worst contributors, so far giving less than 7% of its Gleneagles promise, reports Reuters.
In a direct challenge to French President Nicolas Sarkozy, Geldof said that the percentage was a "measure of the failure of the political class of this country."
Despite their strong words, Bono said he had "high hopes" that President Sarkozy could help France fulfil their commitment.
(by Jason Gregory)