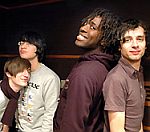 Bloc Party
could be set to make a return this year now guitarist Russell Lissack has left
Ash
.
The band have been on hiatus since they completed touring their third album, 2008's 'Intimacy', in 2009.
Ash frontman Tim Wheeler has revealed that they're now looking for a replacement guitarist adding to speculation that Bloc Party could be set to reunite.
"Russell's been brilliant and we'll have him for our festivalhopefully. Then we'll have to think. I do enjoy having the second guitarist so we've got our eyes peeled," Wheeler told The Sun.
Rumours about the band reuniting were heightened last year when they spent Christmas together.
Kele Okereke has since launched a solo career under the pseudonym Kele.
(by Holly Frith)