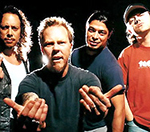 Metallica
drummer Lars Ulrich has revealed that the band are set to record a new album next year.
Ulrich said the group were looking forward to starting work on the follow-up to 2008's 'Death Magnetic'.
"There's a bunch of balls in the air for 2011, but I think the main one is we really want to get back to writing again," he said.
"We haven't really written since, what, '06, '07, and we want to get back to kind of just being creative again."
He added: "I'd say, March or April, and start probably putting the creative cap back on and start writing some songs."
Ulrich also told Pulse of Radio that Metallica hoped to perform more 'Big Four' dates with Slayer, Anthrax and Megadeath in the coming years.
(by Jason Gregory)