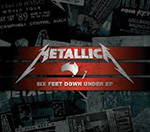 Metallica
have announced plans to release a limited edition EP to mark their upcoming tour of Australia and New Zealand.
The 'Six Feet Down Under EP' will be released on September 20 via www.metallica.com.
It includes eight songs recorded during the band's previous vists to both countries.
In a statement, Metallica said: "Be gentle with us . . . a few of these songs are, well, we'll say 'rough,' which may be an understatement!!
"They do, however, capture the live moments and hopefully you'll have as much fun listening as we did playing on those nights."
The band are due to embark on their first tour of Australia and New Zealand in six years this autumn.
The tracklisting for 'Six Feet Down Under EP' is:
Eye of the Beholder (Recorded live on May 4, 1989 at Festival Hall in Melbourne)

...And Justice For All (Recorded live on May 4, 1989 at Festival Hall in Melbourne)

Through the Never (Recorded live on April 8, 1993 at the Entertainment Centre in Perth)

The Unforgiven (Recorded live on April 4, 1993 at the National Tennis Centre in Melbourne)

Low Man's Lyric (Acoustic) (Recorded live on April 11, 1998 at the Entertainment Centre in Perth)

Devil's Dance (Recorded live on April 12, 1998 at the Entertainment Centre in Perth)

Frantic (Recorded live on January 21, 2004 at the Entertainment Centre in Sydney)

Fight Fire With Fire (Recorded live on January 19, 2004 at the Entertainment Centre in Brisbane)
(by Jason Gregory)