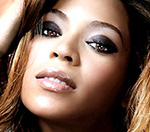 Beyonce
stars in a new exercise video, it has been revealed.
The singer is seen in hot pants in a new four-minute exercise video created to help get American high school pupils more fit.
"It's all about the benefits of healthy eating and exercise and what we want to do is make it fun by doing something we all like to do and that's dance," Beyonce told The Sun.
The video named 'Move Your Body' features Beyonce's 2006 track 'Get Me Bodied'.
Meanwhile, Beyonce has been sued after she allegedly pulled out a of a deal to create a dance video game.
(by Holly Frith)