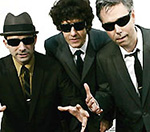 Beastie Boys
' sequel to 1987's 'Fight For Your Right' featuring comedians Will Ferrell and Seth Rogen has appeared online.
The film also includes guest appearances from Danny McBride, Jack Black, Elijah Wood, Orlando Bloom and John C. Reilly.
The full 30 minute film Fight For Your Right - Revisited is available to watch below.
Bestie Boys' new album  'Hot Sauce Committee Part Two' is currently being streamed on the band's website before its official release on May 2.
Their first full length effort since 2007's 'The Mix-Up' features collaborations with Nas and Santigold.
Fight For Your Right - Revisited:
(by Holly Frith)