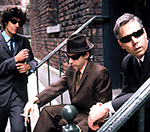 Beastie Boys
' Adam Yauch is set to turn the band's 1987 '(You Gotta) Fight For Your Right (To Party!)' into a short film.
The film 'Fight For Your Right Revisited ' will feature Elijah Wood and guest roles by Danny McBride, Seth Rogen, Will Ferrell, John C Reilly and Jack Black, Sundance.org reports.
The short film will premiere at the Sundance Short Film Festival, between January 20-30, in Salt Lake City, Ogden and Sundance, Utah.
Meanwhile, Beastie Boys are set to release their new album next year, it's been announced.
(by Holly Frith)