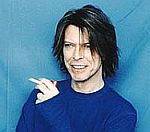 David Bowie
's unreleased album 'Toy' has leaked online after almost a decade.
The 14-track album, which was recorded over a decade ago but never released due to record disputes, has now been spread online.
Five of the tracks including 'Afraid' and 'Uncle Floyd' were released on on 2002's 'Heathen,' with 'Shadow Man', 'Baby Loves That Way' and 'You've Got a Habit of Leaving', released as B-sides.
Bowie is currently on an indefinite hiatus from recording and performing.
(by Holly Frith)