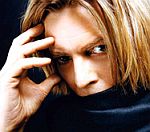 Actors Will Ferrell and John C. Reilly have recorded a spoof version of
David Bowie
and
Bing Crosby
's festive hit, 'Little Drummer Boy'.
The pair have also released a video for the song, which can be streamed below.
In the clip, Ferrell plays Bowie, while Reilly, whose credits include Casualties of War and Chicago, depicts Crosby.
Originally written by Katherine K. Davis in 1941, Bowie and Crosby released their version in 1977 after recording it for a Crosby Christmas special.
Last week, Jack Black and Forgetting Sarah Marshall star Jason Segel debuted their own version of the song.
Will Ferrell and John C. Reilly - 'Little Drummer Boy':
(by Jason Gregory)