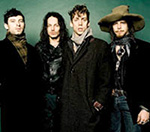 Razorlight
will headline this year's Get Loaded In The Park festival in London.
In their new line-up Razorlight will play the event in Clapham Common on June 12.
In previous years, Get Loaded In The Park has featured performances from the likes of Orbital, Peaches and VV Brown.
Razorlight are currently putting the finishing touches to their new album, which will be their first with their new line-up.
Borrell is now the only original remaining member of the band following departure of Bjorn Agren and Carl Dalemo. Drummer Andy Burrows quit in 2008.
Tickets for Get Loaded In The Park go on sale on Friday (March 25) at 9am GMT.
(by Holly Frith)