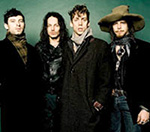 Razorlight
have confirmed that original members Bjorn Agren and Carl Dalemo have left the band.
In a statement, the group said the guitarist and bassist had agreed on an "amicable parting" following unproductive recording sessions for their new album.
Their departure means singer Johnny Borrell is now the only original member of the band remaining. Drummer Andy Burrows quit in 2008.
All three former members have been replaced by Gus Robertson on guitar, Freddie Stitz on bass and Skully on drums.
Meanwhile, Razorlight will headline this summer's Guilfest in Surrey and are currently recording their forth album.
(by Jason Gregory)