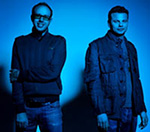 The Chemical Brothers
have unveiled the tracklisting for their soundtrack to the forthcoming movie, Hanna.
The electronic duo have scored the entire Joe Wright-directed movie, which is due out in cinemas next month.
The 20-track soundtrack is due to be released on iTunes on March 20. You can hear the song 'Container Park' below.
Hanna tells the story of a 16-year-old girl who was trained by her father to be an assassin. The plot follows her as she is chased across Europe by an intelligence agent.
The movie stars Saoirse Ronan as Hanna, as well as Eric Bana, and Cate Blanchett. It is released on April 8.
'Hanna' tracklisting:
Hanna's Theme

Escape 700

Chalice 1

The Devil Is in the Details

Map Sounds / Chalice 2

The Forest

Quayside Synthesis

The Sandman

Marissa Flashback

Bahnhof Rumble

The Devil Is in the Beats

Car Chase (Arp Worship)

Interrogation / Lonesome Subway / Grimm's House

Hanna vs. Marissa

Sun Collapse

Special Ops

Escape Wavefold

Isolated Howl

Container Park

Hanna's Theme (Vocal Version)
The Chemical Brothers - 'Container Park':
(by Jason Gregory)