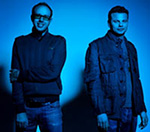 The Chemical Brothers
are set to record the score for director Joe Wright's forthcoming movie, Hanna.
The film, which is due to be released next year, tellls the story of a 14-year-old who was raised by her father to be a killer.
Wright, whose previous credits include Pride and Prejudice and Atonement, said he was looking forward to working with the production duo.
"I've been talking to them, and we're very excited about that," he is quoted as saying by CoS.
"I was very excited to work with them on the score, as you know, my previous films have sounded very classical, working with Dario Marinelli, he won the Oscar for the Atonement score.
"But I was very excited to do something with a lot of bass. It's very loud."
Hanna stars Saoirse Ronan, Cate Blanchett, Eric Bana and Olivia Williams. It is scheduled to open in cinemas on April 8.
(by Jason Gregory)