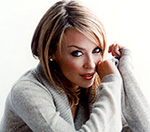 Kylie Minogue
has hit out at her record label Parlophone following poor sales of her recent singles.
In an interview with a Australia's The Sunday Times, the singer accused the label of being behind the times and said she felt let down.
Minogue has released three songs from current album 'Aphrodite' - lead single, 'All The Lovers', performed the best in the UK, charting at number three.
Her two follow ups, 'Get Outta My Way' and 'Better Than Today', have both missed out on the top 10.
"It's confusing. I felt a little let down with my releases from Aphrodite," Minogue said. "I was caught out like a lot of artists were, with record companies figuring out how to do single releases these days.
"I remember doing a promo for one of the last singles and it just felt really old-fashioned. I'm pretty computer-savvy, something didn't feel right, but no one said anything to me."
She added: "Then you get Britney (Spears) releasing 'Hold It Against Me' and Gaga's 'Born This Way' available on iTunes the day you hear it first. That's how it should be.
"And there's me waiting for a mid-week chart figure like it's 1989. I was a bit disappointed by that. I didn't know how to gauge the success of the singles. How do you measure it now?"
Minogue is currently on a world tour in support of the album.
(by Jason Gregory)