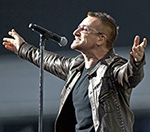 U2
frontman Bono has come under for appearing to endorse a song which includes the lyric: "Shoot the Boer".
The song, first sung during the fight against apartheid in South Africa, is currently at the centre of a battle over whether it should be banned as hate speech.
In an interview with the South African Sunday Times, Bono was suggested that it had its place, and compared it to music in favour of the Irish Republican Army.
"When I was a kid and I'd sing songs I remember my uncles singing... rebel songs about the early days of the Irish Republican Army," he said.
But Bono added that such songs could cause hostility when performed in the wrong place, reports BBC News.
"Would you want to sing that in a certain community? It's pretty dumb," he said. "It's about where and when you sing those songs. There's a rule for that kind of music."
His comments were criticised by callers to a local radio station, with one accusing him of not understanding "our history".
Bono and U2 are in South Africa as part of their 360 Degree world tour.
(by Jason Gregory)