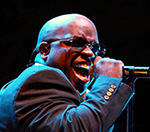 Cee Lo Green
has confirmed that he is working with Hollywood actress
Gwyneth Paltrow
.
The pair hooked up after Paltrow, who is married to Coldplay's Chris Martin, covered Green's hit 'F*ck You' on the hit TV show Glee.
"We're actually working on something. We've been considering a few things actually," he told E! Online.
"You know, we'll see what pans out.
"It's a little too early to commit to a statement and I won't ruin the surprise because whatever we're going to do is going to be extra cool."
Green his one of a host of stars whose music has been featured on the hit US TV show, which tells the story of a fictional high school glee club.
(by Jason Gregory)