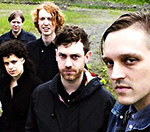 Arcade Fire
showed support for the current student rallies over tuition fees as they kicked off their UK tour in London tonight (December 1).
Singer Win Butler made reference to the ongoing demonstrations early on in the band's set at the O2 Arena.
Revealing that their transport had got caught up in a protest in Central London on Tuesday (November 30), Butler said: "Nice job on the student rallies, f*cking hell man.
"I wasn't praising you when we were stuck in traffic but when I saw why I was like, 'Way to go.'"
The gig marked Arcade Fire's first of two at the venue this week and the band's first ever arena show in the UK.
Settling into their newfound bigger environment early on, the Montreal-based band's set spanned their three albums, including recent number one 'The Suburbs'.
As is tradition, Butler shared vocal duties with his band mate and wife Regine Chassagne, who delivered a powerful version of 'Sprawl 2' complete with balletic dancing.
The band's frontman also took the piano for 'The Suburbs' and 'Crown Of Love', as Arcade Fire's seven other members exchanged each other's instruments.
Ahead of 'Intervention', Butler revealed that a pound from each ticket from the band's tour was being donated to the ongoing relief efforts in Chassagne's homeland of Haiti, which drew warm applause.
The song also marked a shirt in gear from the band, who launched into 'Neighborhood #3 (Power Out)' with Butler modestly telling the crowd: "We've never had a hit record so thank you for coming. Let's all pretend were at a f*cking rock show."
The song was followed by early hit 'Rebellion (Lies)', which saw the crowd - including an enthusiastic Florence Welch of Florence & The Machine - jumping in unison.
After a brief break, the band returned for an encore that concluded with familiar set-closer 'Wake Up'.
Arcade Fire play the O2 Arena again on Thursday (December 2), before touring.
Arcade Fire played:
Ready To Start

Keep The Car Running

Neighborhood #2 (Laika)

No Cars Go

Haiti

Sprawl II (Mountains Beyond Mountains)

Rococo

My Body Is A Cage

The Suburbs

Crown Of Love

Intervention

Neighborhood #3 (Power Out)

Rebellion (Lies)

Month Of May

Neighborhood #1 (Tunnels)

We Used To Wait

Wake Up
(by Jason Gregory)