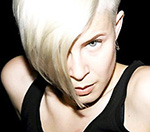 Robyn
has made a cameo appearance in the hit US TV show Gossip Girl.
The singer performed a string-led rendition of her hit 'Hang With Me' on the this week's episode, entitled War At The Roses.
Robyn appeared as the musical act at the birthday party of one of Gossip Girls' leading characters, Blair Waldorf.
The episode also featured an excerpt of the singer's hit 'Dancing On My Own'. Lady Gaga has previously appeared on the show.
Meanwhile, Robyn is set to release the third instalment of her 'Body Talk' album series later this month.
The album, released on November 29, features the best five tracks from part one and two, as well as five new songs.
(Gigwise)