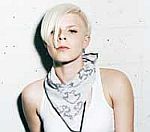 Robyn
has revealed plans to release two new albums in 2010.
The Swedish singer will release the first record, entitled 'Body Talk 1', on June 7.
The album, which is the follow-up to her smash-hit eponymous 2007 effort, features collaborations with Diplo, Royksopp and Kleerup.
"I got all these great songs so why not?" Robyn said of her plans to release two records this year.
"It's been 5 years since 'Robyn' and I didn't want to wait with a release until they are all recorded, so I decided to start putting them out right away."
'Dancing On My Own', the first single from the album, will also be available from June 7.
The tracklisting for 'Body Talk 1' is:
Don't Fucking Tell Me What To Do

Fembot

Dancing On My Own

Cry When You Get Older

Dance Hall Queen

None Of Dem

Hang With Me (acoustic)

Jag Vet En Dejlig Rosa
(by Jason Gregory)