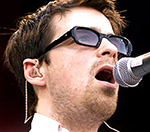 Weezer
frontman Rivers Cuomo has said he expects the band to keep performing until they're 60.
The singer said he had no intention to stop playing live, despite recent calls for the group to retire.
"Assuming the audience still wants us to do this, I can see myself doing this for another 20 years or so," he told Nola.
"Then somebody's got to pull me off the stage."
In October, an American man started a campaign offering $10million for Weezer to call it a day.
But Cuomo said it was "hard" to imagine the band, who released their latest album 'Hurley' earlier this year, ending.
"Now it's easy for me to say, 'I should retire by the time I'm 60.' But when I'm 59, I'll be thinking, 'No! I don't want this to end!'" he said.
Meanwhile, Weezer have re-issued their classic album 'Pinkerton' this month.
(by Jason Gregory)